Hey there everyone,
In this initial blog post, I want to talk about scammers, their techniques, and how to avoid them.
Who am I?
Who am I to write such a blog post you may ask.
Fabian here, the owner of the AltumCode brand 🤗.
I am a web software creator that makes high quality, ready to use, and affordable products and I am either selling them on Codecanyon or via the help of Gumroad.
Throughout time, I've been encountering all kinds of people and all kinds of scamming techniques that they are using to their benefit when it comes to my products.
What's going on?
It's no news that most creators get their work stolen and thrown up for free or for resale to make a quick buck on the internet by people with not so good intentions.
So, here is whats happening…
In the past month's I've come across a more than usual amount of people that were getting caught in getting scammed.
People were either emailing me or writing in the comments of my products, telling me that they got to know my product by purchasing from Flippa ( A marketplace where people can buy and sell their websites ).
Nothing bad until now.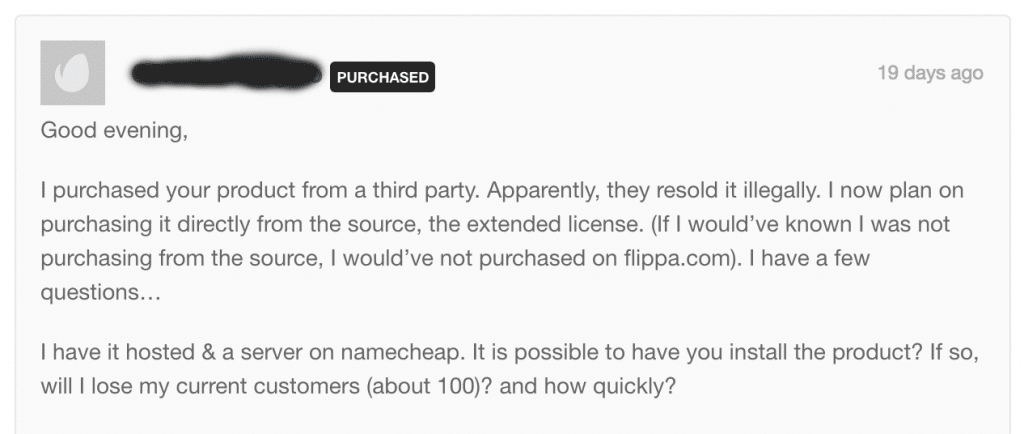 The problems started when they were mentioning to me that they only got the website domain, files, and database.
Here are the potential problems for the buyers:
They are not aware that they are purchasing a product build with an already developed product.
They do not know, they are not told or they are being lied to about the license of the software that's coming with the website.
They are paying way more than they would pay if buying from the source of the product.
These are just a few downsides for the buyers if they get caught up in those "deals".
Don't get me wrong…
There is nothing wrong with purchasing from Flippa or any other marketplace.
It is NOT illegal to sell a website that is built with one of my products.
What is illegal and not allowed is selling multiple websites created with the same license.
Basically cloning the same website over and over again and just changing the domain name and the branding and selling it.
Let me give you a proper example
Now that I've made a bit of introduction to the topic and what can happen, let's start digging into an actual example.
A few days ago, I get an email asking me if a seller from Flippa has permission to resell one of my products:

After I check those out, I can see that:
Both listings are created with one of my products (phpStatistics)
Both listings would get you a random, related to the product, domain name and some other "extras"
Both websites were not registered with a valid license key and they do not have the permission to be used.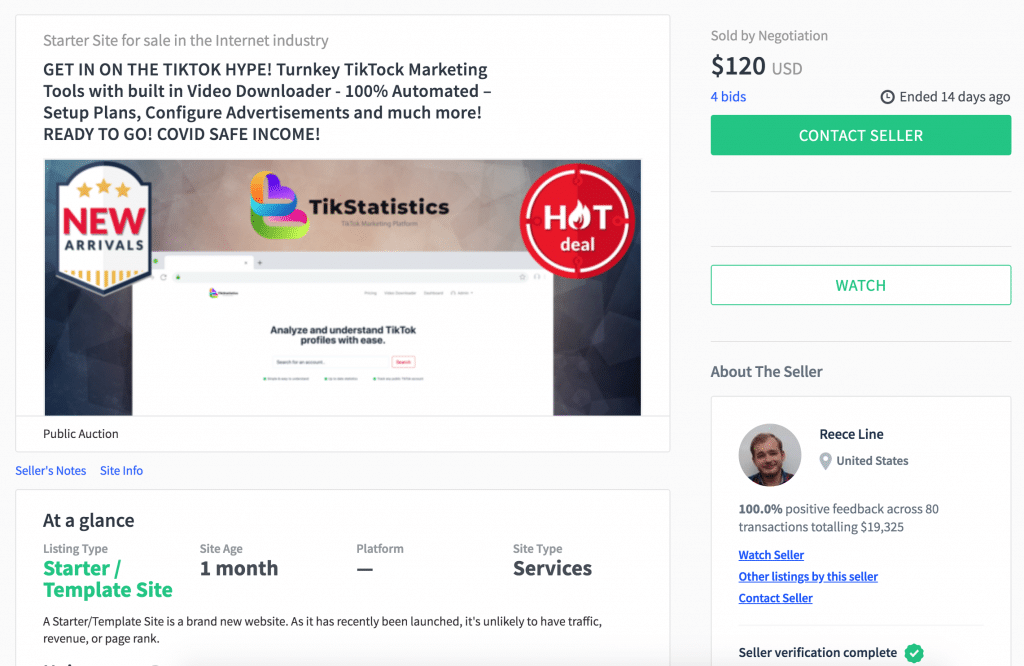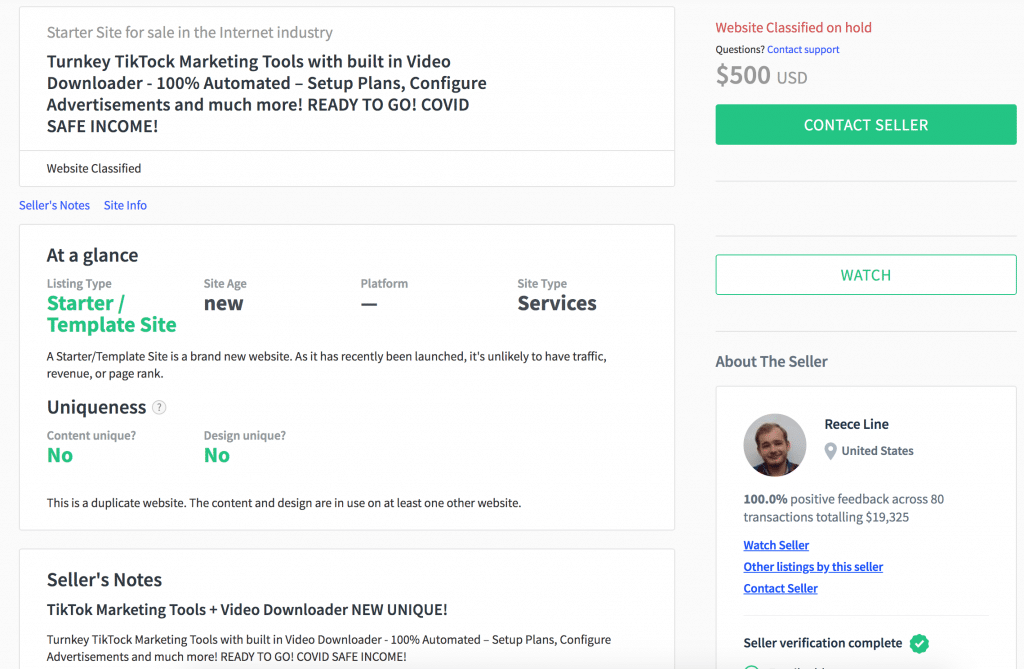 Yeah, the title gives it all away from the start, haha 😆, claiming "C**ID Safe income".
I then start to investigate the seller:

(Yes, he is suspended right now, stay tuned till the end of the article to find out what happened).
This "Reece Line" has 100% positive feedback and 80 transactions, 20K dollars in total sold via Flippa.
Now, I don't know how many of these were legit or not.
After a closer look at the user's profile, I can find that he was selling more websites that were built with another 2 products of mine, again, without the proper licensing for his sold items.
Flippa support
I want to say right from the start, the support and understanding of the situation from Flippa's side is on point.
After reporting 4 of the listings from the Flippa user, I get in touch with Ricky from the support team of Flippa and start the talks.
I am explaining everything that is happening that shouldn't be happening and giving proof to the support team.
It took about 3 days to get to a proper conclusion after going back and forth with Flippa Support as they have also contacted the seller so that they can understand what is happening from everyone's perspective and get a proper conclusion.
Thank you to the support team of Flippa, more specifically to Ricky!
Scammer techniques to try and get around
After I get the first email back from Flippa, I also get in the attachments 4 invoices which were supposedly the proof of payment for my products.
Now, I am not going to show the fake invoices as it shows the scammer's potential address and business details..etc.
After doing 5 minutes of research on all the invoices:
Invoices do not have my proper business name on them (that is automatically added by Envato on every sale)
Invoices have a fake Order ID and Order No (I've checked them against my sales statement page on Envato's Codecanyon)
Invoices are clearly modified from a previous purchase on Envato's Codecanyon as it shows partial credentials from another Author.
Yep, all the 4 invoices are fake and they were provided to Flippa as "proof of purchase".
The next day…
I get another email from Flippa with the 4 potential license keys to again, try and validate his purchase of my products.
Little did the scammer know that Envato offers a way to check all the licenses and see if they are valid and get more details about them.
Of course, I did all the proper checks and provided all the proof to Flippa regarding this matter and simply waited for the outcome.
Getting scammers off the platform
The next day I get the great email from Flippa after they did all their investigations basically saying that they have enough evidence on this to move to a permanent ban.
To everyone that is actively doing this and knows that they are in the wrong, simply stop it. There are other ways of making legit money, without scamming people.
I will take my time to report all the Flippa listings that are doing these kinds of scammy stuff and I would suggest other fellow Authors/Creators do the same 🙏.
Why did I bother?
This will definitely continue to happen and I know that there will always be people who try and go around the system, I understand that.
I did not gain any money from doing this, nor does this influence my sales.
I did it because I simply imagined myself in the shoes of the buyer, paying for these scam listings and then finding out they do not even have a legal license to run the websites and even paid more than needed.
How to avoid getting scammed
Now, again, there is nothing wrong with purchasing from Flippa, as long as the seller does everything by the book.
Here are some tips from my side to put in practice when purchasing an already built website via Flippa or any other marketplace.
Ask about the software that was used to build the website and the respective licensing terms
If the software turns out to be a paid one, ask for proof of payment, a license key (in some cases) and the URL of the actual software that was used
If something seems "fishy", ask the developer of the product about the listing as in some cases you could get more useful details.
Do your due diligence on the pricing as you could easily pay more than you need to.
Thank you for reading 🤗 and do not hesitate to ask about anything related in the comments, would be happy to answer!
Update 1:
Thanks to this article, multiple people have reached out and thanked me for writing  it 🙌.
And I want to give a quick example:
A person from Twitter has reached out to me after reading the blog post and realizing that the website she bought was sold illegally.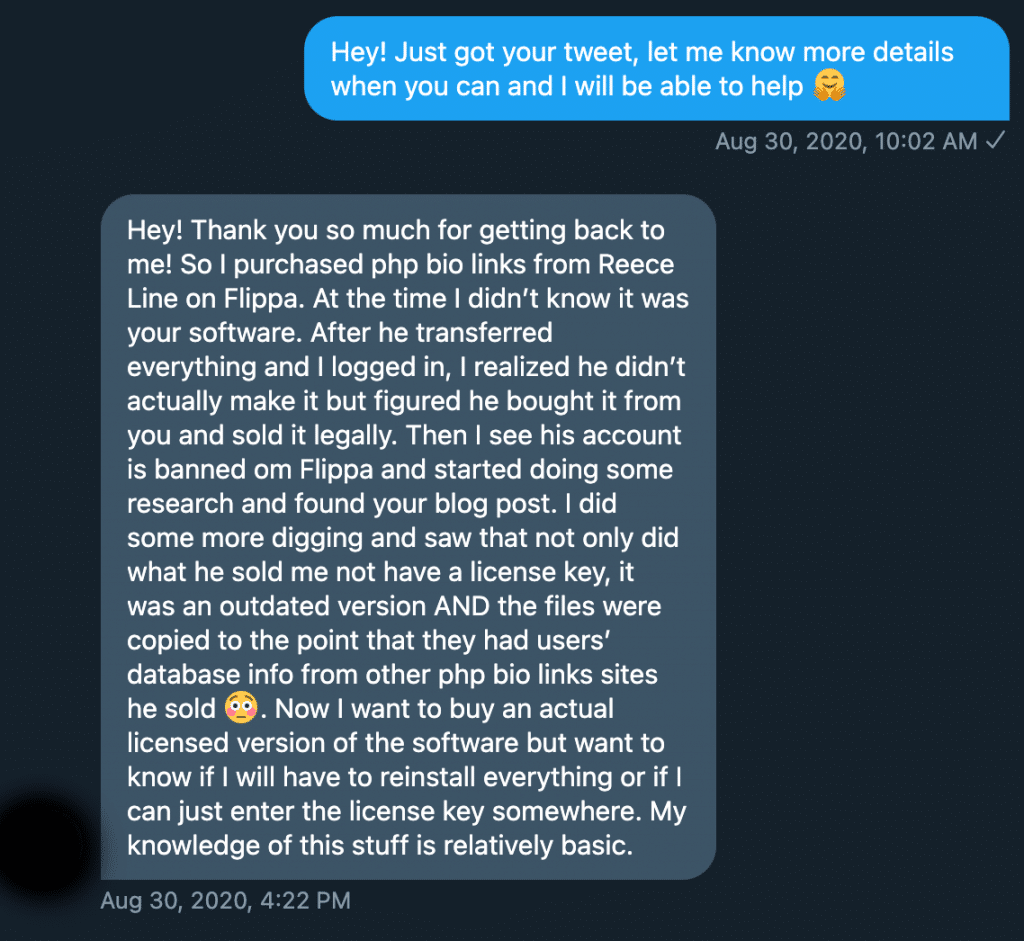 Thankfully, she got a refund on one of the other purchases she made and will apply for a refund on my product as well, in order to purchase and own a legal copy.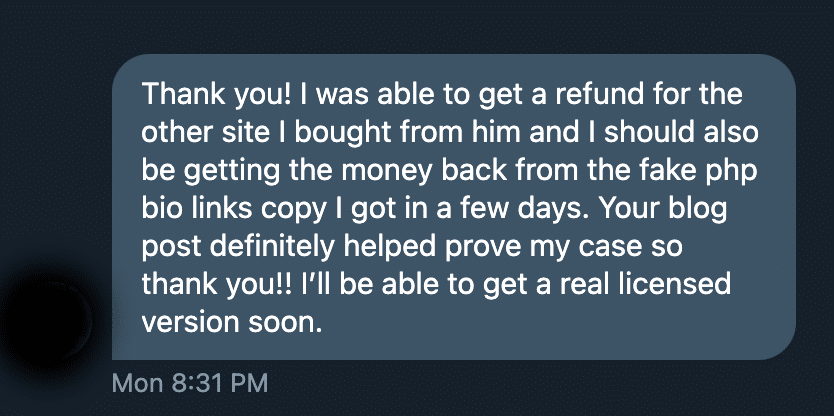 Again, really glad to hear that people are starting to get more aware that these kinds of scams are happening and at the same time, people get more educated on what they should check on before making a purchase from someone.